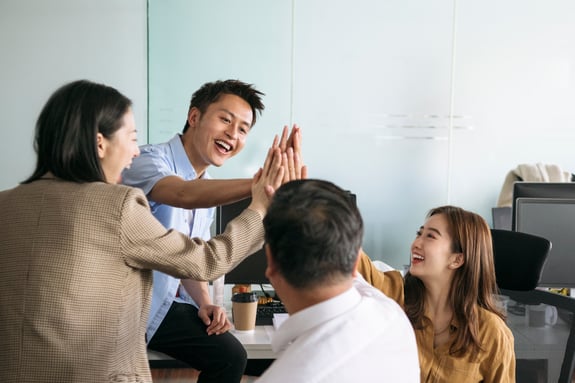 Naluri for Employers
Your healthier team starts here
Naluri is powerful
Naluri delivers clinically-significant health outcomes through an integrated and structured employee assistance programme that addresses your team's physical and mental health.
BMI
⬇ 5% reduction in weight lowers diabetes risk by up to 50%
Cholesterol
0.5 mmol/L total cholesterol reduction
⬇ decreases the risk of cardiovascular events by 23%
HbA1c
1.0 HbA1c reduction results in
⬇ 21% decrease in diabetes-related deaths
⬇ 25% reduction of risk of neuropathy, retinopathy, and diabetic nephropathy
⬇ 43% reduction in risk of amputations and vascular disease
Blood Pressure
10mm Hg systolic blood pressure reduction decreases the risk of
⬇ Coronary Heart Disease by 17%
Mental Health
Through Naluri's coaching and support, members have improved their mental health.
⬇ 56% have reduced symptoms of depression
⬇ 56% have reduced symptoms of anxiety
⬇ 64% have reduced symptoms of stress
4x
return on investment in as little as 6 months
60%
of participants achieve clinically significant health outcomes that reduce risk factors for chronic conditions
20-50%
reduction of risk factors for chronic conditions
Naluri is scalable
Naluri provides an integrated digital health solution with end-to-end support to ensure a successful corporate wellness programme rollout.
Data-driven
approach to risk assessment and intervention.
Proactive
employee recruitment and enrolment.
Timely
Continuous
Naluri is flexible
Health is personal. That's why Naluri's digital healthcare solutions are risk-stratified and personalised to empower real change.
The next frontier of health and well-being
Address multiple chronic health conditions, with a single digital care solution.
Obesity & Diabetes
Depression & Anxiety
Hypertension & Heart Disease
Stress & Resilience
Advanced Chronic Conditions
Healthier employees for healthier business
Naluri delivers coordinated multidisciplinary support and clinically proven digital tools to empower real change.
Increase
employee engagement and resilience
Decrease
employee absenteeism and presenteeism
Contain
healthcare expenditure
Supports employees through prevention and treatment, with clinical health outcomes in just 16 weeks.
Predict
Physical and mental health screenings are followed by risk-stratified interventions ranging from preventative self-learning for low-risk to structured digital health coaching for high-risk participants.
Prevent
with innovative digital tools to increase engagement for better health outcomes.
Naluri provides proactive employee recruitment, enrolment and rollout
to increase programme adherence by 200%.
Features that deliver value for your employees
Integration with connected devices
Team-wide and personal challenges
Dedicated 24-hour carelines and textlines
Exclusive health and wellness resource library